Alright! I've been excited about this for awhile, but wanted to get my box before I gave you all my opinion. The Good Food Box is a collective-produce buying program in Montreal. Produce is bought from local farms and distributed throughout the city to drop-off points.
Here is a pretty colorful pamphlet about the program:
http://www.moissonmontreal.org/pdf/PamphletBBBBfr.pdf
They distribute about every two weeks, you need to sign up (and pay) a about a week before.
I ordered the big box, it cost $16. Here's what I got today!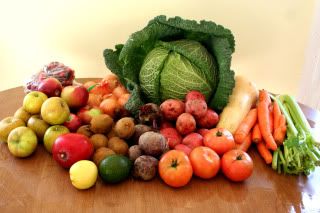 1 extremely large cabbage
1 squash
1 head celery
7 carrots
12 red potatoes
4 tomatoes
8 beets
1 sm bag onions
8 kiwi
7 red apples
8 gold apples
2 bags cranberries
1 mango
1 lemon
1 avocado
They all appear very fresh! They need washing, but they look delicious! The avocado & mango aren't quite ripe (which is good, don't want them bruising on the way home). I think it's a good deal. It might get frustrating not having any control over what we get, but then again I like the variety. I love avocados and mangos but rarely think to pick one up. Same with beets, I never buy them but I know DH loves them. It will also inspire me to try new recipes and try foods I rarely eat. On the other hand, I bought two cabbages last time they were $.69 each at Maxi and I still have 3/4 of one left. Good thing cabbage lasts awhile